Computer & Phone Repair
Grand Forks, ND
VALLEY TECHPROS CAN FIX IT!
Our talented team in beautiful downtown Grand Forks, ND has the tools and knowledge for expert Computer Repair, Phone Repair or Electronics Repair. For us, customer service and quality come first. We offer affordable rates with fast turnaround time and a smile to match.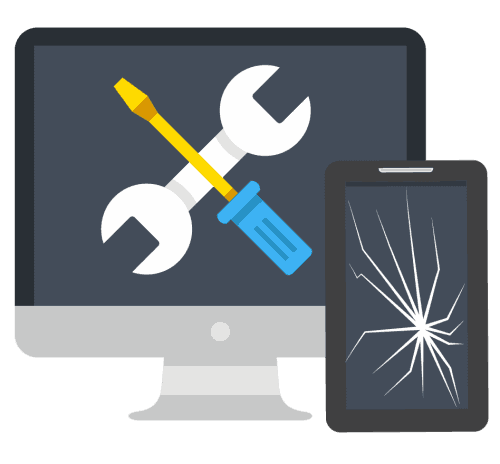 Valley TechPros Can Fix It
PC & Mac Repair
We service all Windows, Mac and Apple Products Whether it is a laptop or a desktop, and regardless of the manufacturer, there is almost nothing that we are not capable of fixing. 
iPhone, Samsung & Android Phone Repair
We service and repair all makes and models of both Android and iPhone. All our screens come with a lifetime warranty for manufacturing defects.
iPad & Tablet Repair
We fix all forms of Android tablets along with iPads. We have the expertise and knowledge to get you back up and running.

Gaming Systems
Viruses, Spyware, Malware, Adware, and Ransom-ware are the most common problems that PC users face these days. Let us help.
Other Electronics
Big box stores got you down? Can't find just the right computer for your needs? Talk to us and we can build you a computer to fit your specs.
Limited Lifetime Warranty
on Screen Repairs
Don't worry about manufacturer defects or install errors. All our iPhone screens are backed by our Limited Lifetime Warranty. If it stops working we replace it at no cost to you.
 * Restriction apply Click here to view details.
Certified Technicians
We pride ourselves for employing both CompTIA A+ Certified and Apple Certified techs to work on your most valuable devices. Our training and experience can beat out any of our competition.
Low Price Guarantee
Find a repair cheaper at one of our local competitors? We can match AND beat their price! We even except competitor coupons!
No Appointments Needed
We know your schedule can be crazy and busy. That's why we do not require any appointments for your repairs! But hey! If you want to save $10 you can do so by scheduling your repair!


Protect Your Tech
With up $300 in repair guarantees

Anti-Virus You Can Trust
Because it's what we trust
VALLEY TECHPROS CAN FIX IT
PC & Mac Repairs Done by TechPros
Whether it is a laptop or a desktop, and regardless of the manufacturer, Valley TechPros can fix it. We service all Mac and Apple products that are outside of apple's repair warranty.  We are your local experts in computer & phone repair! Don't go somewhere expensive let us do it at an affordable cost. Give us a call or stop into our location in the beautiful downtown Grand Forks ND for a free estimate. 
People have a lot of great things to say about us!
Recommended on Facebook
I have nothing but praise for Valley Tech Pros. As a senior citizen I'm not exactly fluent in today's laptop/ electronic world as much as I try and would like to be. Valley Tech has treated me great despite my lack of knowledge. I was lucky enough to purchase one of their used computers a HP Pavilion entertainment PC at a wonderful price. I've never had such a beautiful computer. I can't thank them enough for their kindness and professionalism
Recommended on Facebook
I loved their customer service. They were very prompt. They
were great communicators. They were helpful and knowledgeable. I highly recommend Valley TechPros.
Reviewed on Google ★★★★★
Dalton from Valley Tech Pros helped me pick out my new laptop. I was incredibly grateful for his experience in knowing exactly what types of specifications I might need for the work I do.
Reviewed on Google ★★★★★
Great service and easy to work with. The team helped my business resolve a hardware issue with our router and internet very quickly. Definitely would go to them again for tech issues in the future.
Reviewed on Google ★★★★★
Dalton has gone above and beyond to help our nonprofit! He fixed all of our computers, so we wouldn't have to spend 10X the money to purchase new again! Elizabeth is also so patient and kind! She sat down with an employee who was nervous she would lose programs in the update and took notes on the employee's concerns.
Reviewed on Google ★★★★★
I had my husband's PS4 repaired. We kept getting an error message that it was over heating. When they started diagnoses they informed us the fan was seized up. I was given a quote for the repair and asked approval prior to ordering a part and starting the repair. Very nice and prompt service! I now have one happy husband!